UrnSpirations
Human Ash Urns. Pet Ash Urns.

All Urns are Glass Blown and Hand Painted with the Design of Your Choice.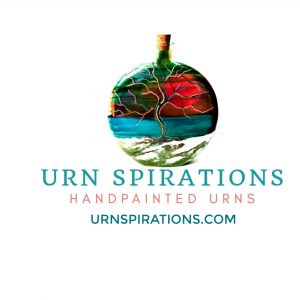 About UrnSpirations
Here at URNSPIRATIONS we offer custom hand painted glass urns inspired by your loved one's life passions. Our fully custom designs provide a personal touch, a window into what that person loved the most to celebrate their life's journey. Our goal is to offer eternal peace for loved ones.
All urns are hand painted by Knoxville, TN based artist Dawn Hawkins, owner and designer of Urn-Spirations. Dawn believes that every person is unique and beautiful, and she takes special care to add personal touches into each custom urn that will make them special to each family member in memory of your loved one.
Human Ash Urns
Pet Ash Urns
Tree of Life Urns
Memorial Artful Tributes
Memory Urns
Glass Urns
"I absolutely love the urn she made for my cat Chaos!! It was more than I could imagine!! A definite skilled artist and obviously cares about her work. thank you so much!!"
"Thank you soooo much Dawn I really love my mom urn this is something that will forever be so special to me. You were a great help & you responded so quick thank you."
"Dawn, was wonderful and so accommodating. She customized (3) urns so beautifully, for my precious Mom's cremains, including sand, shells and stunning sunset scenes. She shipped directly to the funeral home, so the whole process was seamless. The funeral home was so impressed, with these gorgeous urns, that they kept Dawn's card for the future. Thank you so very much."